How To Create an Online Store?
Step-by-Step Guide for building an eCommerce website and the online store
As countries went into lockdown when the COVID-19 pandemic hit all parts of the world, global businesses were forced to quickly jumpstart the transformation process from physical store to online store.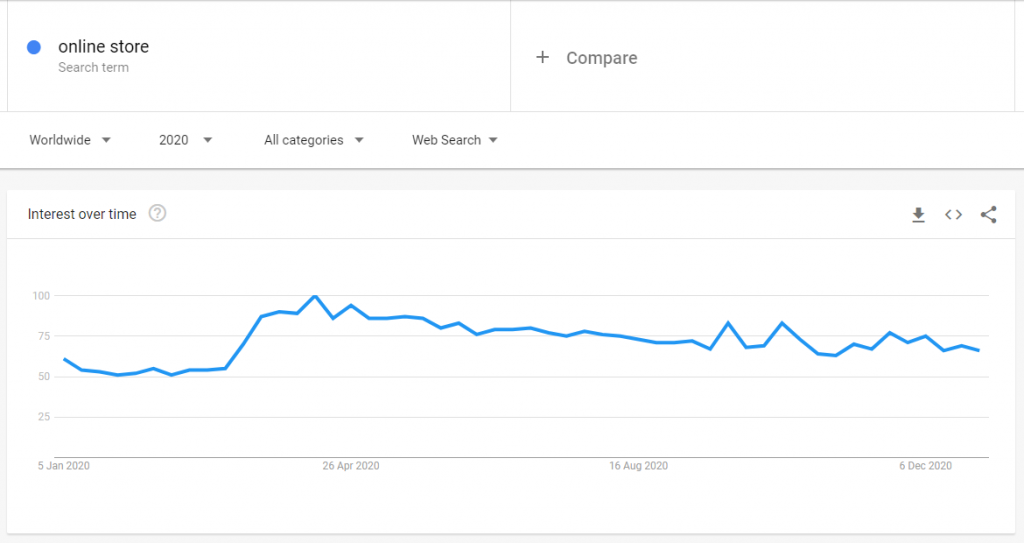 Online searches for "online store" quickly surged as COVID-19 started reaching different continents, physical store owners soon started closing their doors as global leaders imposed strict lockdowns in an attempt to control the outbreak worldwide. (Source: Google Trends)
THINGS TO CONSIDER WHEN CREATING AN ONLINE STORE
Online sales in the United States grew 32.4% in 2020, hitting a record amount of $791.70 billion. A PwC report released in June 2021 predicts that online shopping is likely to continue in the future, making it more important for business owners to move online if they want to maximize their sales.
There are a couple of things to take into considerations before choosing an online store platform.
The majority of available online store builders offer subscriptions services. Shopify for instance offers services with a subscription fee starting at $29 USD per month plus additional transaction fees for certain payment options. While some offer free plans, keep an eye on other charges such as commissions or transaction fees. For example, Square offers a free plan but will charge you 2.9% plus 30 cents per transaction.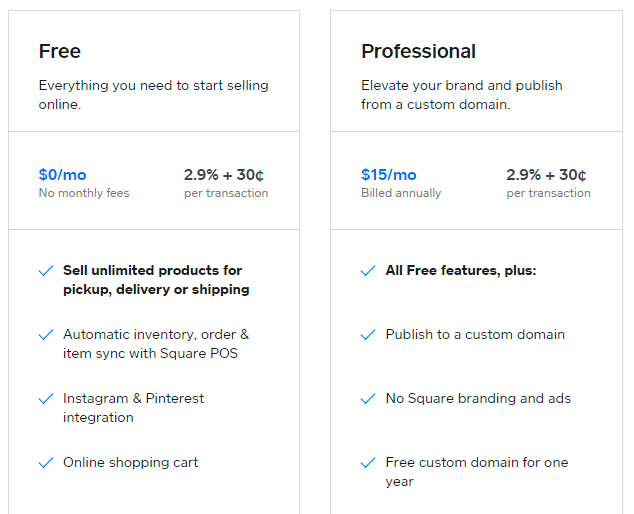 Source: Square Online (Free and cheapest plan)
WooCommerce is another popular option for a lot of business owners. It is an ecommerce solution powered by WordPress, you will need a web hosting plan in order to build a WooCommerce WordPress website. You will also need to pay for additional add-on costs in order to unlock certain premium features or install additional plugins to work with WooCommerce. The technological expertise required to operate WooCommerce will be relatively higher, hence might not be an ideal option for someone who is new to creating online stores.
It is important to take a look at the available payment gateways options of each system, think about whether the platform provides payment services that cover a wide variety of customer groups—credit card customers, cash customers, debit card customers, etc.
People on average are spending up to three hours on their smartphones every day. With the rise of new technologies including 5G networks (and even 6G, which is currently said to be in development) and more sophisticated mobile devices that aim to operate faster, we can expect society to only become more dependent on these small devices.
There are currently over six billion smartphone owners globally. In the U.S. alone, 85% of its population now owns a smartphone. More internet traffic is coming from mobile phones—70% of total traffic—while internet traffic from desktop devices only accounts for 22% of total internet traffic. Online services have also shifted towards mobile, a 55% of revenue compared to 36% made on a desktop device. The global mobile commerce market reached $628 billion in 2020 and is expected to grow at a compound annual growth rate of 34% from 2021 to 2026. 
So what do these data say in terms of your decision to go mobile or not? We can say the consumer behavior shifting towards the smaller screen devices, simply because it is just so convenient to unlock your phone screen and you can start browsing and purchasing items anytime anywhere you want. It is now even more crucial for business owners to not only have a website version online store but the mobile variation of it.
Similar to what I've mentioned a bit earlier when talking about WooCommerce. Since there are all kinds of online store options available, one important factor would be your ability to launch and maintain the online store. Would you need or be able to receive help and support in case you encounter any issues? Can the tool help you jumpstart your ecommerce website as quickly as possible because after all, time is money!
With all that in mind, I am happy to recommend Website.com:
I would want to first bring your attention to two terms:
Payment Processing Fee
Refers to fees charged by the payment gateway provider

(e.g. PayPal, Stripe, Square) that processes credit card payments

Transaction Fee
Refers to fees charged by the platform

where you build your online store
Website.com offers PayPal as the payment gateway option for all plans. If you are also looking for Stripe or Square, you can choose to upgrade to their paid plans to obtain multiple payment gateways for your online store. PayPal charges a standard payment processing fee for credit card processing per online transaction when you use their service, this is a standard for all online stores. Website.com however, unlike some platforms out there, will not charge users an extra transaction fee per purchase. For instance, Shopify will charge users an extra transaction fee if they opt to use a third-party payment gateway method.
By mid-2021, there are over 400 million active PayPal users, making it one of the most popular online payment gateways in the world. PayPal provides a range of safety protocols for both sellers and buyers, it is one of the most secure payment platforms with a remarkably low fraud rate at 0.32% of revenue. By offering a PayPal payment option, your potential customers are likely to feel more secure to make the payment in your online store compared to other platforms that handle transactions using their own online system.

Try out the online store features for free

Even with Website.com's free plan, users can already start trying out the online store features such as online and offline payment options, product options, option choices, etc. Users can upgrade their plans anytime as their business expands.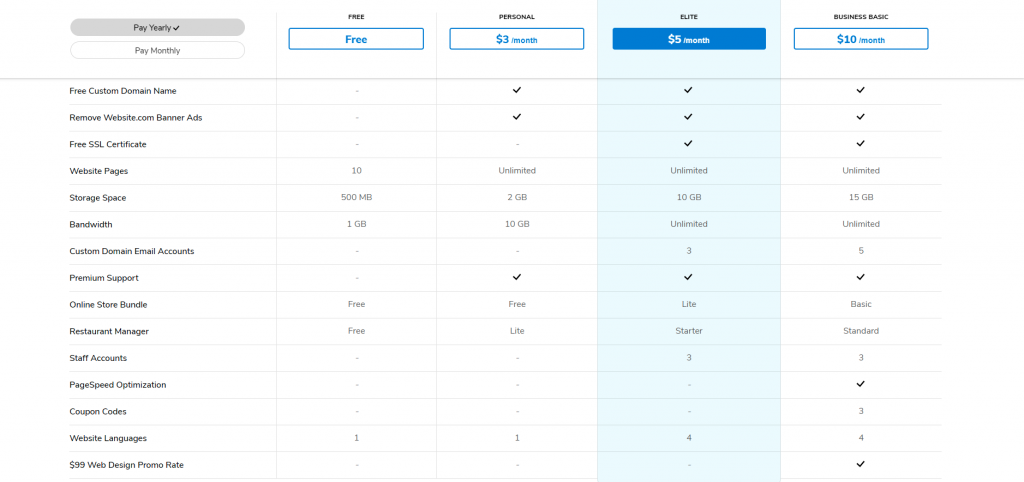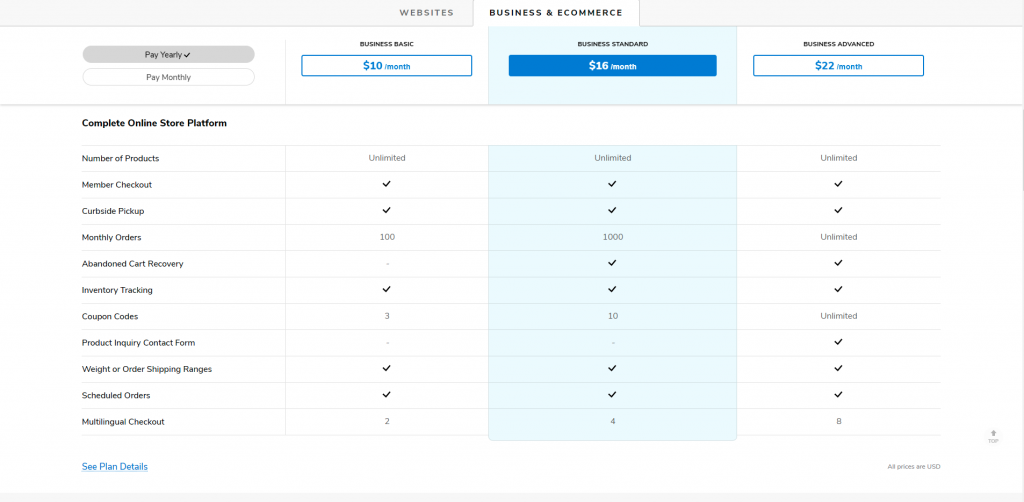 Website.com business and ecommerce-focused price plan
Nicely built templates ready to use

Website.com offers a variety of online store website templates so users can quickly set up their ecommerce business. All you need is to add your products, provide product details, and customize the website with your own information.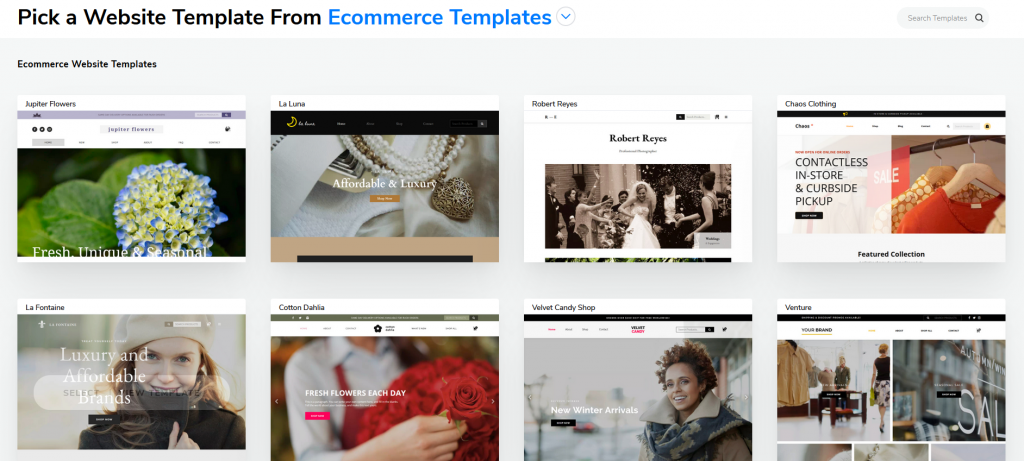 HOW TO BUILD AN ONLINE STORE?
Choose an ecommerce template
Go to Website.com's ecommerce website template page and choose a template that fits your needs.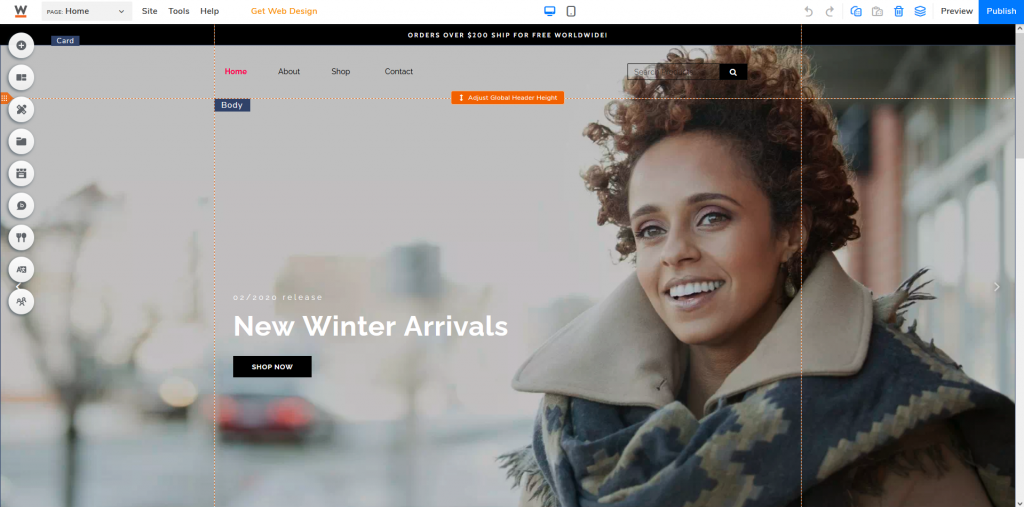 Click the Store icon and select Go to Store Manager to start setting up and managing your online store.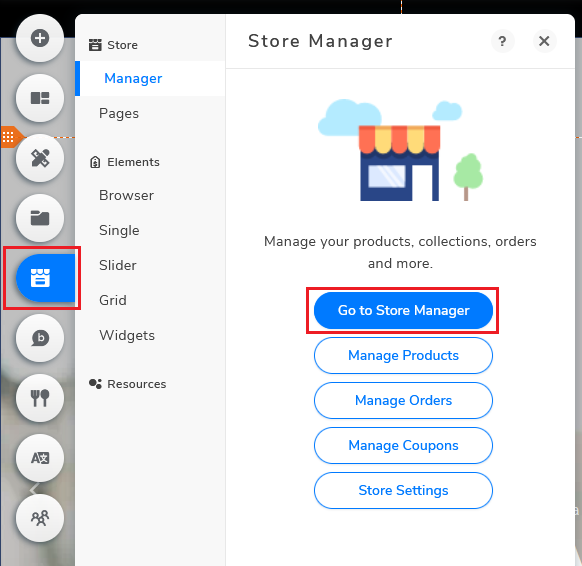 Note: If you have selected a non-ecommerce template, you can add the online store by clicking +Create Store Now. The system will automatically create a new page and open the Store Manager interface.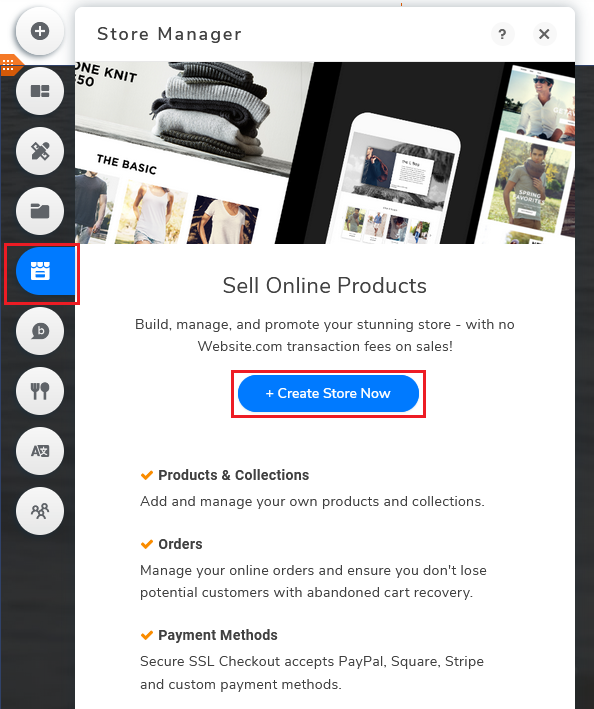 To add new products and edit product details, you can do that via Products Catalog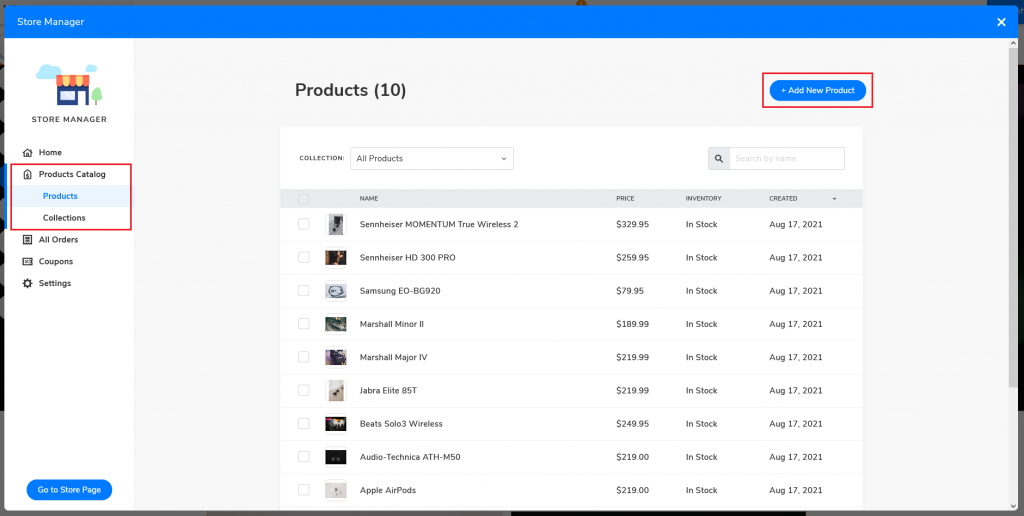 "Collections" is where you can select and group products together.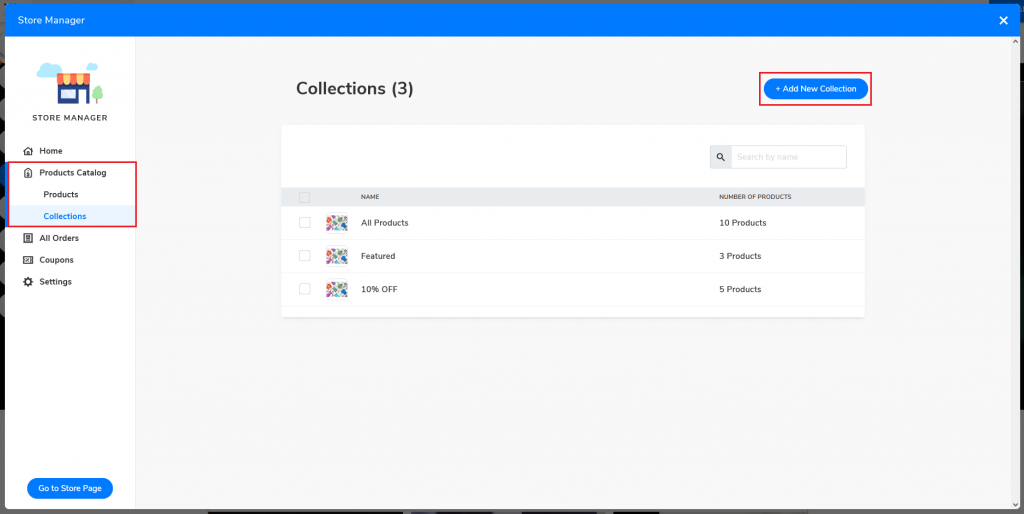 Click +Add Products to add products and input product details to your collection. When you're ready, remember to press Done.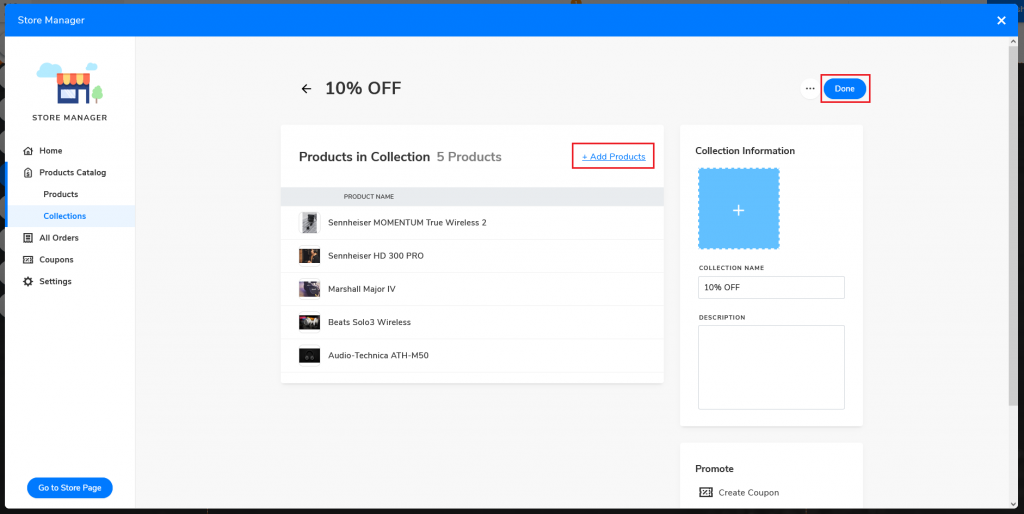 When editing details of a specific product, you can also immediately add the product to an existing collection or create a new collection with the product.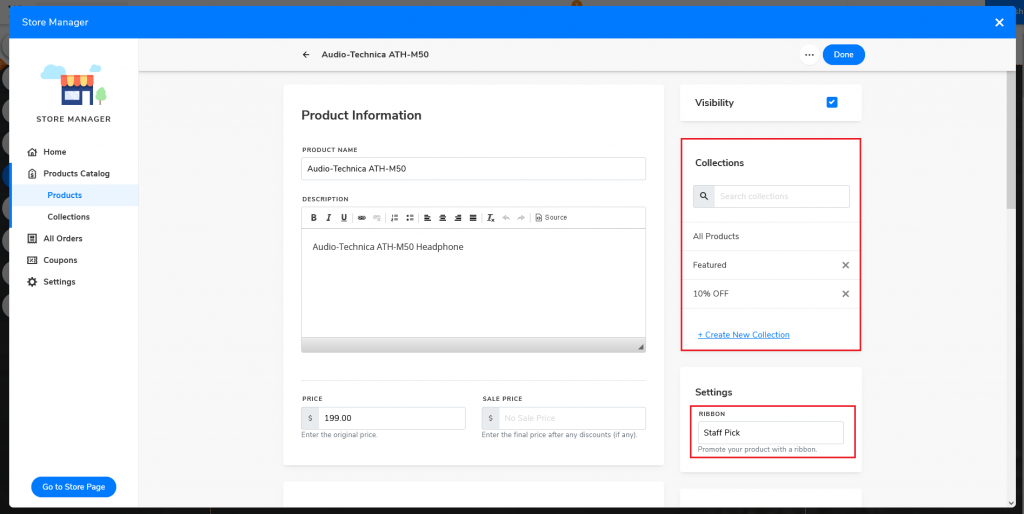 Tip: Make use of Product Ribbons to promote selected products.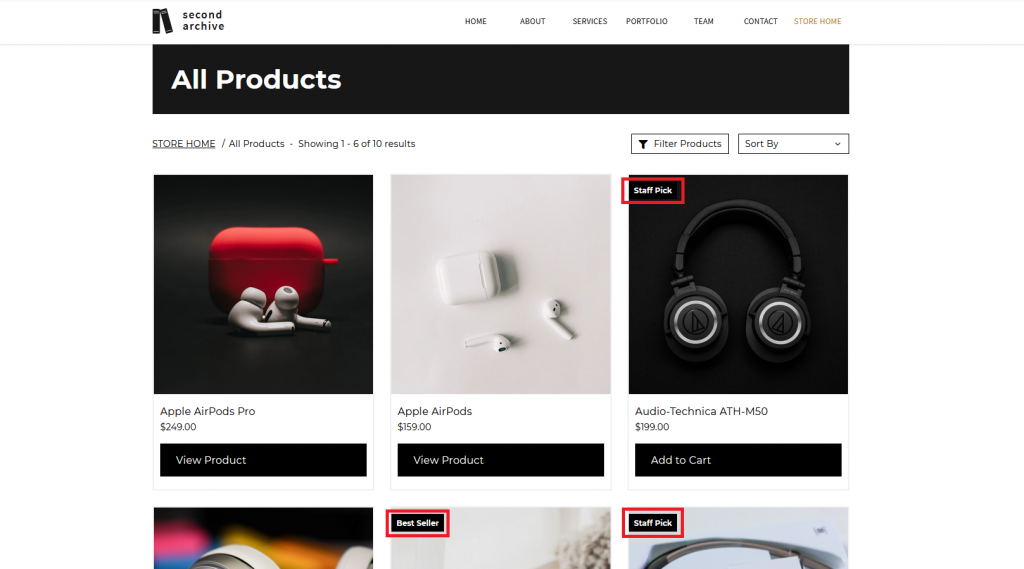 SHOULD YOUR BUSINESS USE COUPONS?
Coupons are a great way to boost your sales and help to promote your business. These are essentially discounts and promotions helping to promote your business to the world in multiple ways including:
Attract new customers

Increase awareness of your products

Increase chances for repeated sales

Enhance customer loyalty

Promote a new product line
Almost 90% of U.S. customers said to have used coupons when doing online purchases. One study even suggested that U.S. customers in total spend as much as 13 million hours a week to search for online coupon codes.
Go back to Store Manager and click Coupon to set up and activate Website.com's coupon function.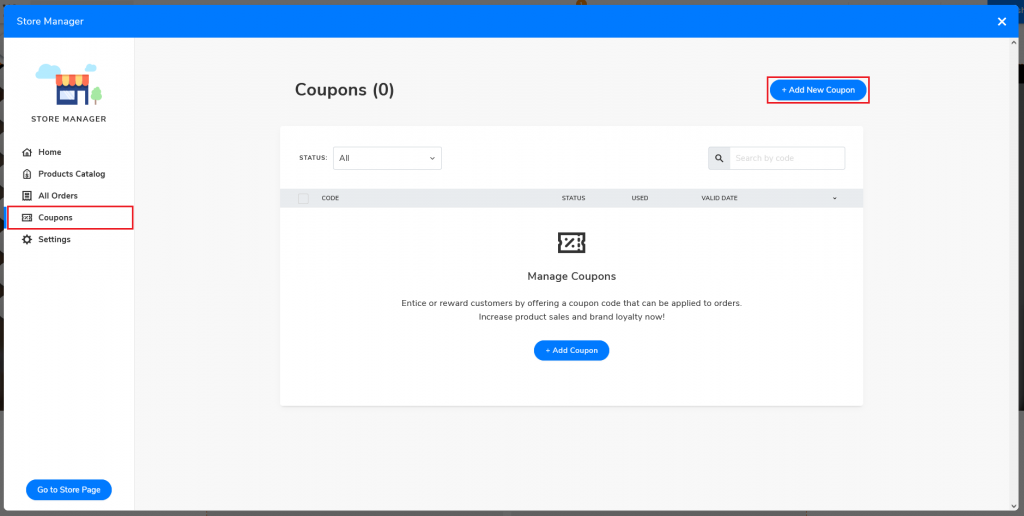 Click Add Coupon to customize your coupon code, coupon type, discount value, and the specific products/collections you want to apply the coupon to.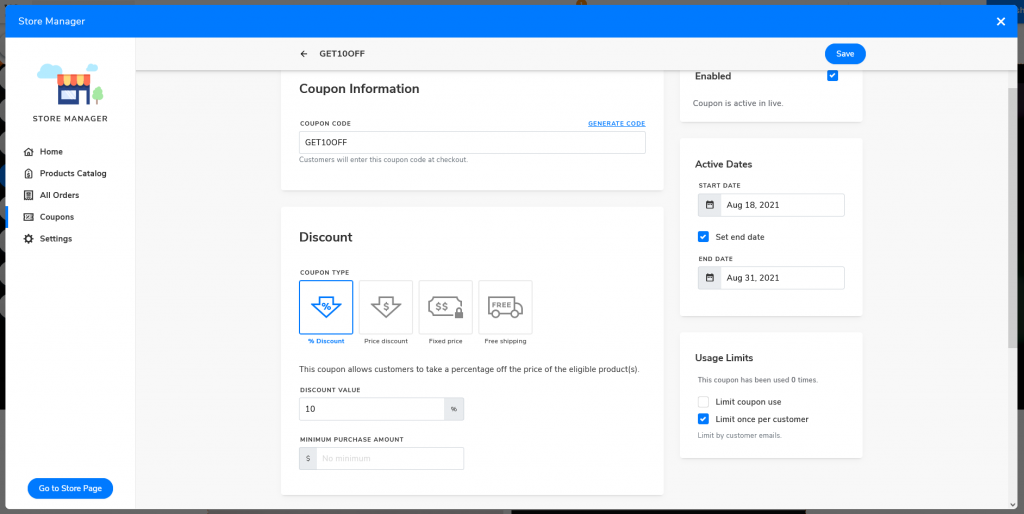 Your customers can start using the coupons when purchasing products from your online store once you've set up and added the coupons. They can attach the codes to the "Discount Code" area and click Apply to use the coupon.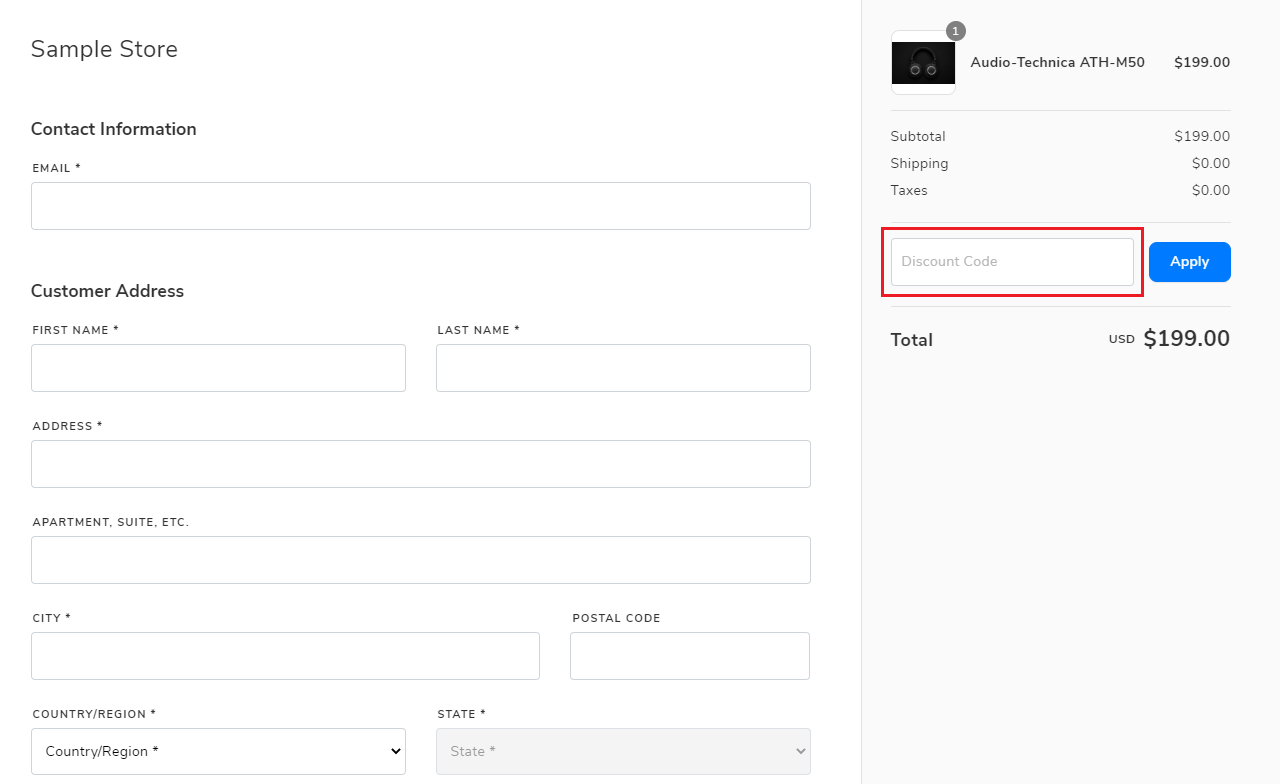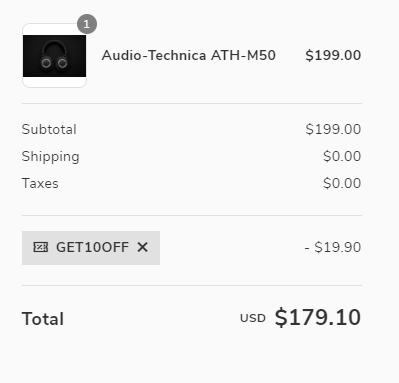 There are plenty of ways to promote your coupons. You can create posts share them on social media (that would first require you to have social media accounts), promoting via email marketing (requires email subscription), coupon platforms (external websites/applications), or even creating a landing page. 
Another option, one that requires bare minimal effort, is to promote your coupons directly on your online store page.
Go to the

PAGE

button right next to the

Website.com

logo. Under

Pages

, select the page with the

Store Icon

.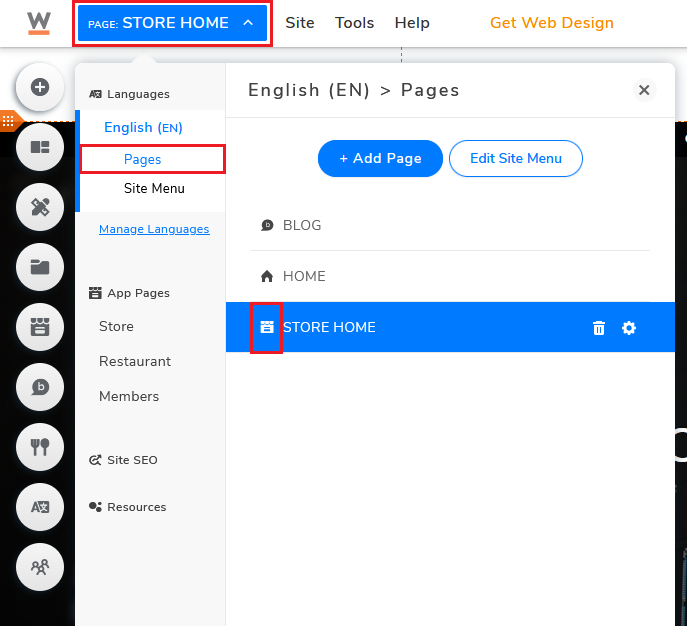 Customize and apply your text promotion at the very top

. Remember to provide details

of the promotion, conditions (if have) and your coupon code.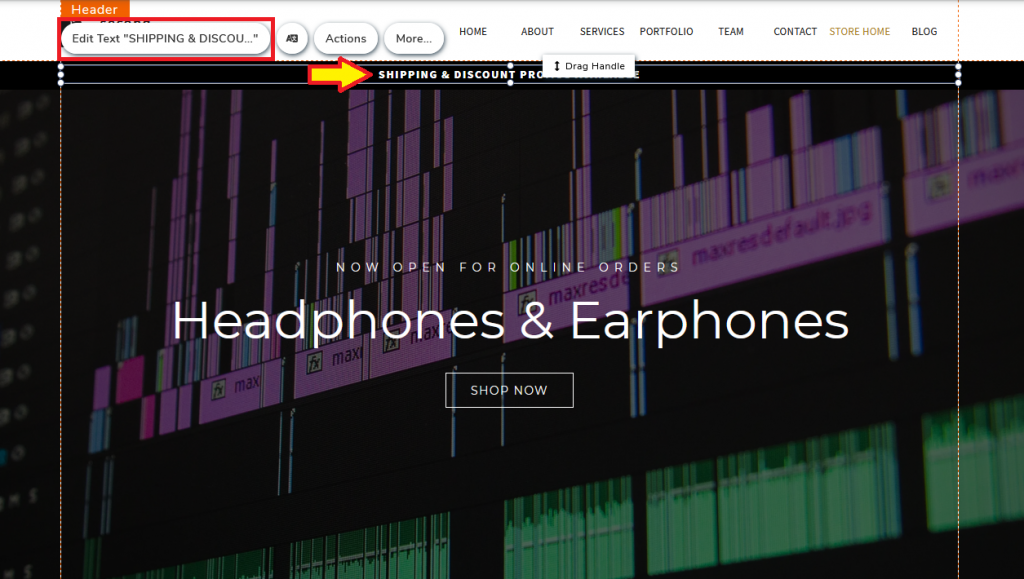 Note: Whenever you have a new coupon code, remember to also change your promotional text (Example: GET10OFF) to make it consistent.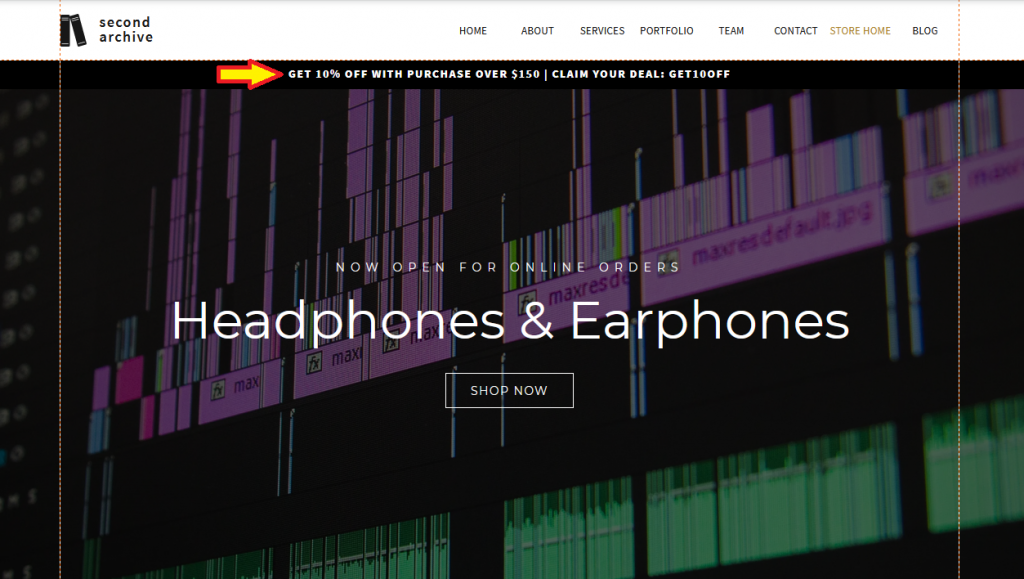 Click here to learn more about Website.com's website builder.
WHAT IS AN ABANDONED CART AND WHY IT IS IMPORTANT?
Note: This feature only applies to Business Standard and Business Advance plans
An abandoned cart occurs when potential customers add items to their shopping cart, start filling in their contact and address details, get to the checkout page but left before completing the entire process. Baymard Institute found out that the global average shopping cart abandonment rate was up to 70%, while Forrester Research predicts that companies lose as much as $18 billion USD annually due to abandoned carts.
This is bad news for all business, but by sending out abandoned cart emails, this is a way for businesses to try and recover these lost sales. 
Website.com's online store manager interface allows business owners to track down incomplete online purchase orders. To find abandoned carts, go to Store Manager > All Orders > Abandoned.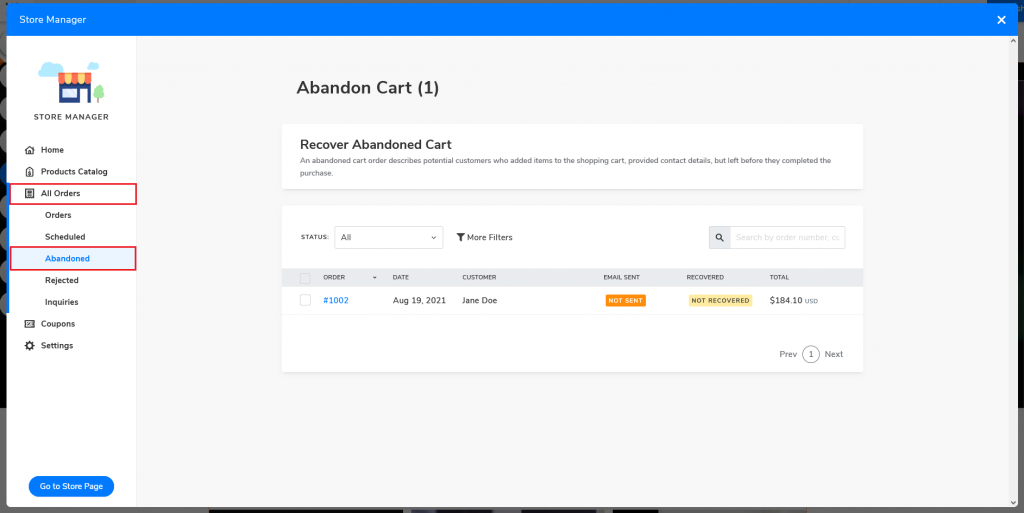 Click on the orders that you want to re-engage and click Send Recovery Cart Email.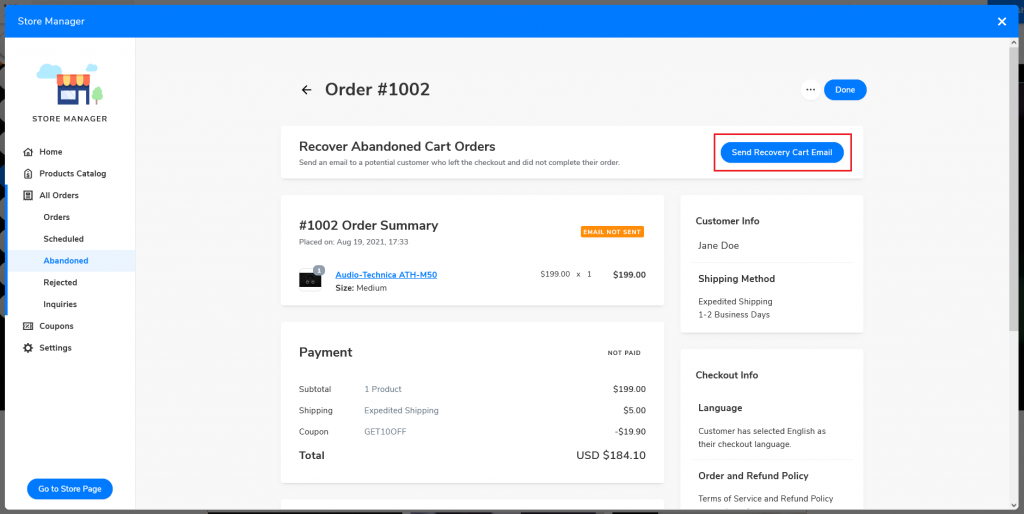 The system will automatically send out the email and update the email delivery status in your Store Manager.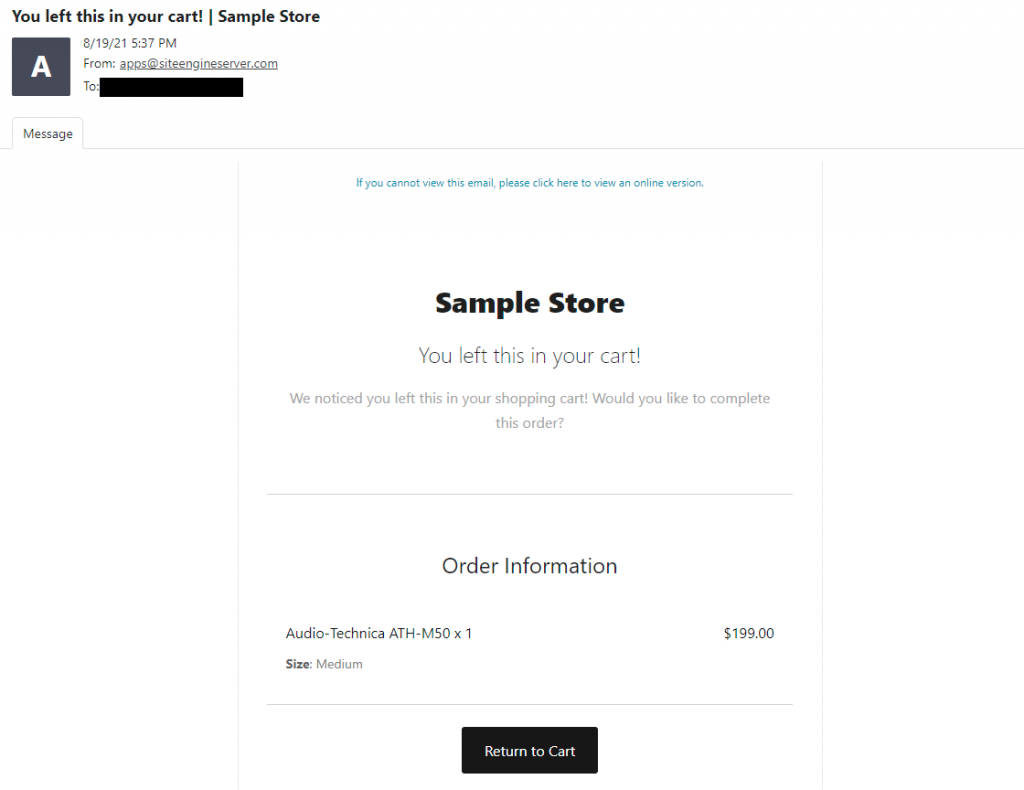 This is what your potential customer will receive (recovery email)
Always keep an eye on abandoned carts, sometimes people might not have intentionally abandoned their order! A study by Moosend shows that around 45% of online customers did open the abandoned cart emails, 21% clicked on the link in the email retrieving their abandoned purchase, and 10.7% of the online customers have actually paid.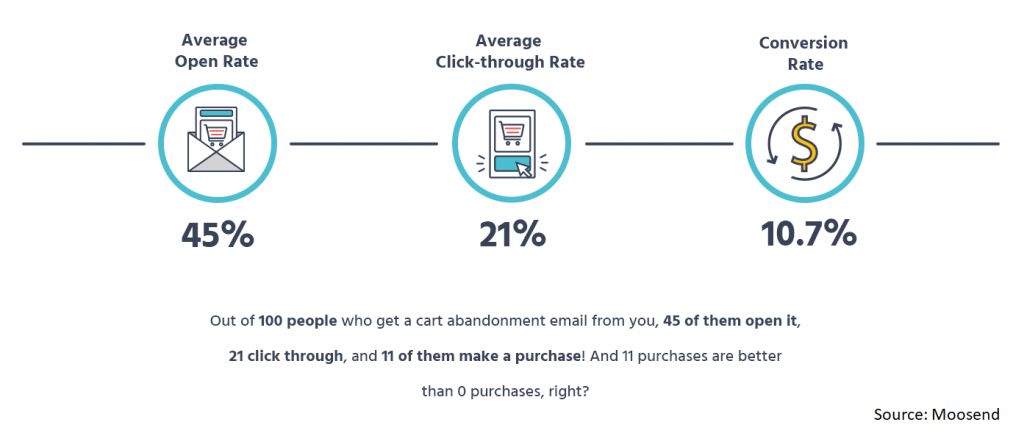 So even though you might not be able to retrieve all the abandoned orders, at least, you'll be retrieving some!