Domain Name: What It Is & What To Look Out For
A domain name, to put it in simple words, is the part of a website address that represents who you are. This is the part your visitors will remember when typing in the web browser address bar.
It is a unique name that belongs to one website only.
WHAT IS A CUSTOM DOMAIN NAME?
You will often see two types of web URLs: one with free subdomains, and one without. Say if you used WordPress to build a website, you will either end up with YourName.com or YourName.wordpress.com. The difference between both—paid vs free.

Generally speaking, there is nothing wrong if choosing to opt for a free domain. People have different reasons to create a website. Not everyone owns a business, some might just want an online space to show their personal interest/hobby, say fictional writing. It all depends on the purpose of building a website, your goal, and your budget.
However, if you're a business owner or a content creator who plans to expand your business online. I will strongly suggest you pay for a custom domain name.
WHY PAY FOR A CUSTOM DOMAIN NAME?
Visitors can easily memorize it
The more simple a web address is, the higher chance for people to remember and access your website whenever they want.
If you choose to use a free domain, you are basically forcing your visitors to remember the name of the service provider your website is using. Not to mention not every service provider uses the same format for their free domains.
For instance, Website.com's free domain name is YourName.website2.me.
Important for brand reputation and credibility
Imagine you're a customer planning to spend at least $2000 to purchase a brand new camera. You come across two websites: photographya.website2.me and photographyb.com. Which one feels safer to do business with?
A website without a subdomain is likely considered to be more credible and legitimate, and this is understandable. As much as you might not want to spend money on buying a name (I know, every penny counts). However, if you are not willing to spend a bit, how are you convincing people to spend it on your business?
Visitors can still access your website after changing provider
If your visitors save or bookmark your free domain website, their web browser will not automatically update the record (the bookmarked web address) if you've changed a service provider. They won't be able to directly access your most updated website.
If you have chosen to purchase a custom domain since the very beginning, it doesn't matter if you are using Website.com, Wix, or WordPress to build your website. For your website visitors, it's still YourName.com.
WHAT IS A DOMAIN EXTENSION?
Now that we've talked about the domain name as a whole. Let us break it up a bit and talk about the specific parts of a domain name.
Second-Level Domain (SLD)
A second-level domain is what your visitors associate you with. In other words, this is likely your name, business name, or something related to you and/or your business.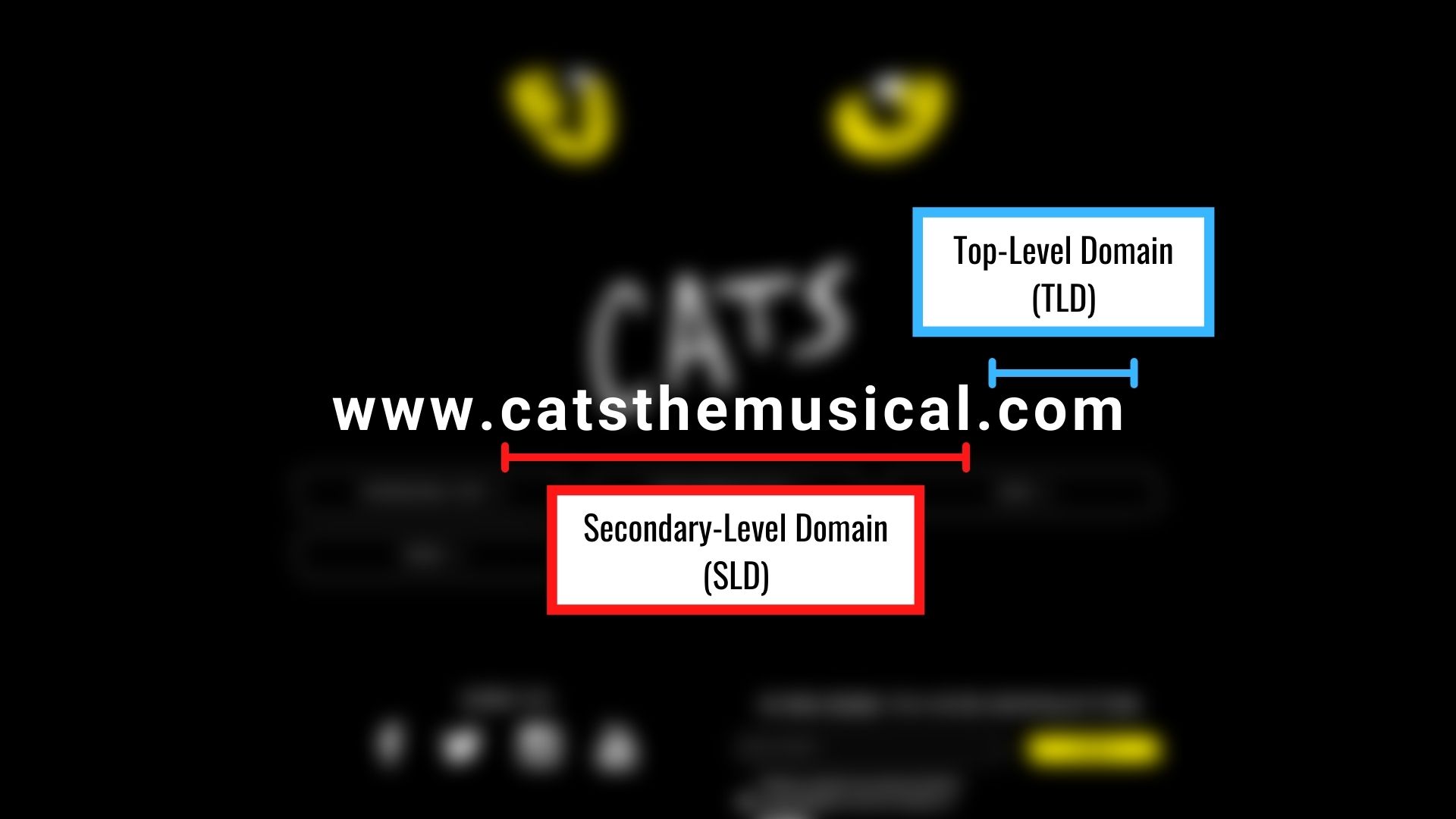 The top-level domain (TLD) is the last bit of your domain name—the .com, .net, .org of a website URL. There are plenty of different TLDs available for people to use, the above three mentioned TLDs are just some of the most common and traditional ones that millions of websites have been using.
If you are having trouble pinning down a domain name because it was already taken by others. Other than brainstorming for a different SLD, you can consider changing the TLD (with conditions).
Country Code Top-Level Domain (ccTLD)
Say you are running a small local business and will only be operating in a specific geographical region, you can opt for using country code top-level domain (ccTLD) instead. However, be aware of registration restrictions for certain ccTLDs. For instance, you either need to be a U.S. citizen, resident, organization, or a foreign entity with a U.S. presence to qualify for registering for a .us ccTLD.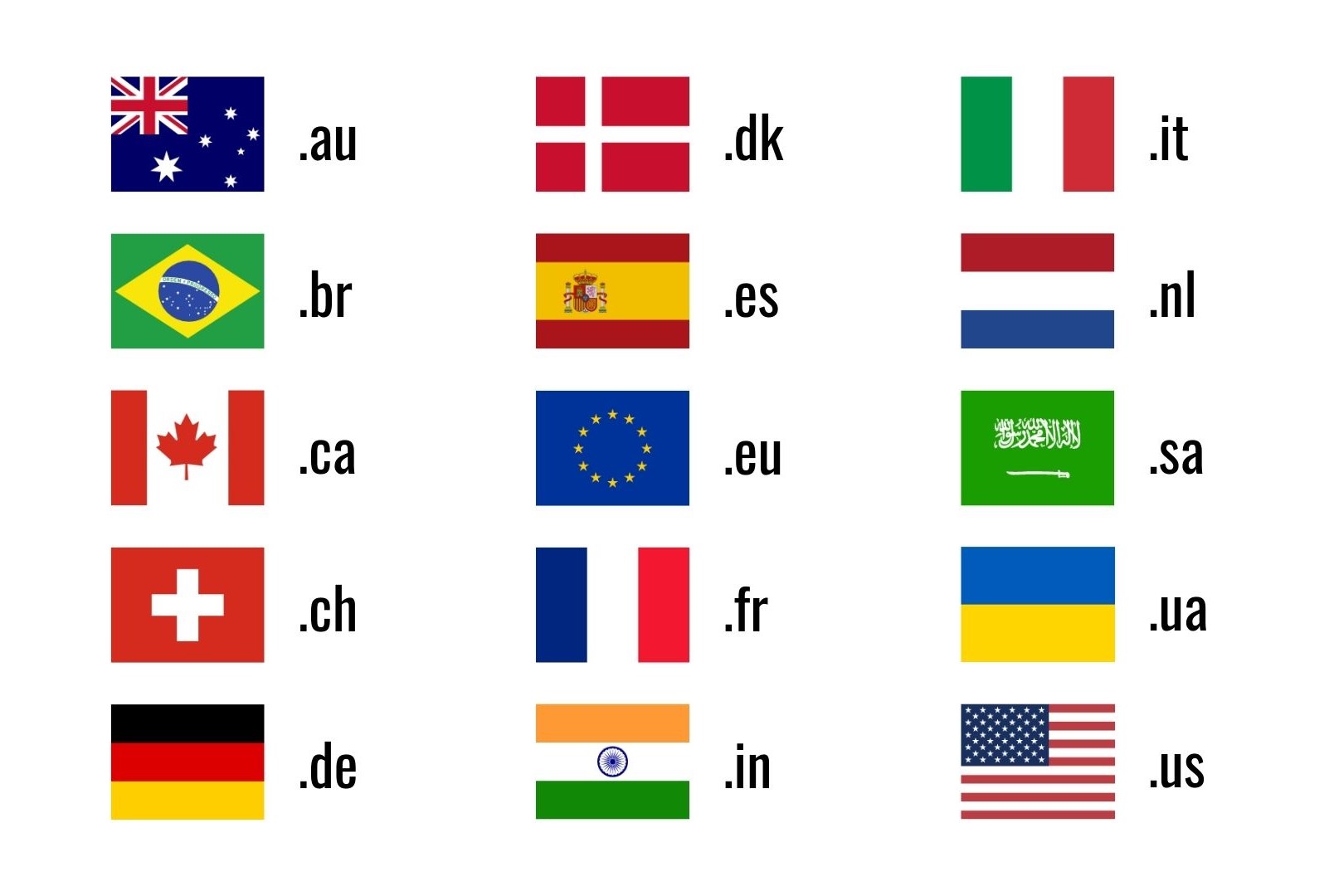 ccTLD is generally good for local search engine optimization (SEO) as it gives you a higher SEO value for country-based search results. Imagine that you're a local bakery in Canada, your website's ccTLD is .ca. Whenever someone in Canada searches for "local bakery Canada", your website is likely going to rank higher than if you only have a .com ccTLD.
That said, I would still recommend you to take a look at TLDs like .com and .net for a simple reason: potential expansion. And when that happens, you can use .com or .net for your international site.
General Top-Level Domain (gTLD)
Anything, in a way, can basically be a general top-level domain (gTLD).
Traditional → .com, .net, .org (organizations), .edu (educational institutions)
Newer → .biz (business), .blog, .photo, .io (tech, gaming, startup), .dev (tech and developers), .app
As you can see, newer TLDs are often tied with specific fields or industries. Unless you are in that specific field, using these newer gTLDs might do more harm than good for your website.
If you're a music licensing subscription-based company and your target visitors are likely creatives with relatively high digital literacy rates, you will be fine using a newer gTLD like .io. But if it's just a website selling concert tickets, or a website targeting people in their 40s to 50s. A more traditional and common .com is probably easier for them to remember.
CLAIM YOUR DOMAIN NAME FIRST
You don't need to have a website before you can own a domain name, in fact, they are two separate entities. You need to have BOTH a domain name and a hosting plan to make a website accessible for the public.
Even if your desired domain name is still currently available, you never know if someone else might have the same idea of using the same name for their website. Once taken, you will have to think of an alternative.
Good domain names could run out fast. Therefore even if you are only THINKING about building a website for your business, it might still be a good idea to claim the name before someone else does.
There are a lot of different companies offering domain registration services. The general rule of thumb, it is always safer to purchase domain names from reliable companies. Try to stay away from those "get a domain for free!" services for security reasons.
Feel free to check out Google or Doteasy for domain name options and availability. The latter one is also a WordPress hosting service provider offering pre-installation and auto-update services. These are normally required to be done manually by website owners.
And if you're more of a website builder person, Website.com's domain name search feature will do the same thing. They will also offer suggestions in case your desired domain name has already been taken.